Third AstraZeneca pension strike goes ahead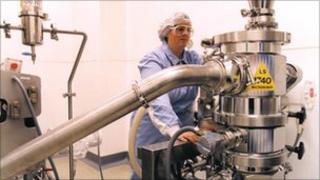 Another strike over pensions is planned for AstraZeneca's Macclesfield factory on Thursday 23 September.
Nearly 500 members of the GMB union, out of a local workforce of 2,500, are planning a series of four-hour strikes.
They are trying to thwart the company's decision to freeze their pensionable salaries for ever unless they move to a defined contribution (DC) scheme.
The company implemented its change on 1 July after formal consultation with the whole workforce.
"It has been necessary for the members to take this third day of strike action as the company have made no attempt to negotiate or even discuss the matter with GMB," claimed Allan Black, a GMB official.
An AstraZeneca spokesman said there had been no negotiations since the dispute started, "but there have been some discussions, though there is no proposal on the table," he added.
In addition to the strike, the GMB members will also start an indefinite overtime ban from 0830 on Thursday.
Previous strikes on 8 September and 15 September also lasted for just a few hours and were designed to affect each of the three shifts at the factory.
Enhanced contributions
The union is objecting to the firm's decision to cajole the remaining 2,500 active members of its final salary scheme, which closed to new joiners in 2000, into moving to its DC scheme instead.
The union has described the company's decision as draconian, catastrophic and unnecessary.
AstraZeneca has justified its decision to restrict further accumulation of pension in its final-salary scheme by saying that it still has a deficit of £1.4bn, despite paying in £645m in extra contributions during the past decade.
As a carrot, the staff have been offered enhanced employer contributions if they switch schemes, amounting to between 14% and 18% of their basic salaries.
The firm's Macclesfield plant is the company's second largest and makes the anti-cancer treatment Zoladex, used in the treatment of prostate and breast cancer.
The company made pre-tax profits of £1.9bn in the three months to the end of June.