Oil body concern at non-EU migration cap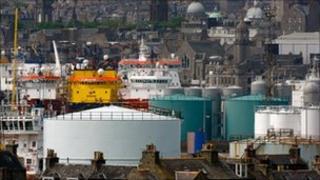 The UK offshore energy industry has joined criticism of a cap on non-EU migrant workers.
Oil & Gas UK warned of its "extreme concern" that the limit could harm investment, employment and the nation's energy security.
Firms must be allowed to move and hire skilled workers when needed, it added.
Last week Downing Street denied claims by Business Secretary Vince Cable that an interim immigration cap was doing "huge damage" to business.
The cap on non-EU immigration was a Conservative Party manifesto commitment but was opposed by the Liberal Democrats before the coalition government was formed.
'Flexibility'
Oil & Gas UK, which is the industry's main body, said the cap was already delaying projects and that if it were made permanent would have a "significant, damaging effect on activity and consequently employment within the oil and gas industry".
"This is an international industry, dominated by multinational companies who require a highly skilled, global workforce," said Jessica Burton, Oil & Gas UK's manager for special projects.
"The industry has a significant role to play in driving the economy out of recession and just when capital expenditure is rebounding the interim cap is increasing the threat of delays in the progress of major projects, which are linked to hundreds of jobs for UK employees."
Migrants brought into the industry were "highly skilled and have unique experience in specific disciplines", she added.
"Such skills are developed over decades and are not readily available in the resident labour market. It is essential for the industry to retain the flexibility to bring in personnel as and when the need occurs, especially when projects can experience unscheduled requirements for specialist expertise at short notice."
Last week Mr Cable said firms were considering moving jobs abroad because they could not recruit the staff they needed.
He told the Financial Times he backed plans for a permanent cap from April but wanted it to be more flexible.
No 10 said the cap would be implemented in a way that still allowed the brightest and best to come to Britain.