Portugal bond sale raises 750m euros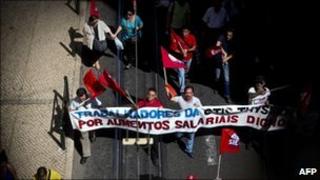 Portugal has raised 750m euros ($1bn; £640m) in its latest sale of government bonds.
Demand for the four and 10-year bonds was the highest so far this year, local bond traders said.
But a higher borrowing cost suggested there are still worries about the country's financial health.
On Tuesday, the Irish Republic, Spain and Greece also revealed the results of bond issues that were heavily subscribed.
"The auction seemed to go rather well with no hiccups and demand was pretty high," said Orlando Green, a bond strategist at Credit Agricole in London.
"I am actually surprised they placed only 750m euros, but this may be a message to the market that they are not desperate to place much more."
The average interest yield on the 10-year bonds was 6.2%, up from 5.3% last month.
The yield on the four-year bond rose to 4.7% from 3.6%.