Canary Wharf property firm suffers Lehman loss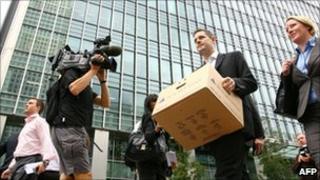 The property company that owns much of Canary Wharf has reported a fall in profits, largely thanks to the collapse of Lehman Brothers two years ago.
Songbird Estates said pre-tax profits for the first half of the year totalled £13.1m, down 84% on a year earlier.
Despite the write-offs, Songbird said its property portfolio was strong.
The net value of its buildings rose 6% over the last year to £4.8bn, with strong demand for commercial property despite a weak UK economy.
Majority stakeholder
Songbird had to write off more than £50m after Lehman Brothers' administrators stopped paying rent on its Bank Street offices earlier this year.
Songbird controls more than half the buildings in Canary Wharf.
It is the majority stakeholder in Canary Wharf Group, which rents out 17 of the 35 retail and office buildings in the London financial district.
Lehman Brothers' administrators, PWC, stopped paying rent at the end of March.