Irish economy contracts by 1.2%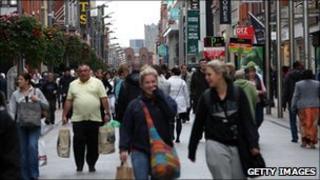 The Irish Republic's economy shrank in the second quarter from the previous three months, surprising analysts who had been expecting growth.
Gross domestic product (GDP) fell 1.2%, the Central Statistics Office said. It also revised down its measure of growth in the first quarter to 2.2% from 2.7%.
Gross national product (GNP), seen by some as a more accurate barometer of the economy, fell by 0.3%.
The government has been seeking to reassure investors about the economy.
There have been concerns in the markets about the health of the Irish economy and government finances because of continued problems in the banking sector.
Market fright
Meanwhile the difference between yields on 10-year Irish government bonds and German bonds - considered the safest - rose to its highest level in more than 10 years.
Irish debt is trading 4.25 percentage points above equivalent German bonds. This spread reflects how much riskier markets perceive the Irish economy to be compared to Germany's.
Before the disappointing growth data was released, markets were already taking fright at a eurozone industrial survey that pointed to a sharp European slowdown in September.
There was also concern at comments on Wednesday from Irish debt management head Oliver Whelan that the government would not back subordinated debts of the nationalised lender Anglo Irish Bank.
"Subordinated" debt is provided by lenders who agree to stand behind the other "senior" lenders in the queue to be repaid when a borrower goes bust.
The comments were seen as suggesting that the government is trying to scale back the blanket guarantee it gave to its banking sector during the 2008 crisis.
The Irish-German yield spread was also helped by news from Berlin that the German government would cut its supply of new bonds for the rest of the year by a quarter, leading to a rally in German government bonds.
'Disappointing'
Most economists had predicted the Irish economy to have grown by 0.5% in the second quarter.
"It's well below [the consensus forecast] and a disappointing figure clearly," said Dan McLaughlin, Bank of Ireland's chief economist.
"One could take some comfort from the fact that domestic demand is beginning to show some signs of life," he added.
"Probably people will now have to reassess their outlook for this year overall."
'Export our way'
The Central Statistics Office said the economy had been hit by a fall in consumer spending - down 1.7% compared with the same period last year.
But exports showed strong growth, up 884m euros (£751m) on a year ago.
"The figures for exports are strong and I am encouraged by this - the necessary competitiveness improvements are working," Finance Minister Brian Lenihan said in a statement.
"We must export our way out of our current difficulties, there is simply no other way."