Shale gas trend to 'raise prices' warns think tank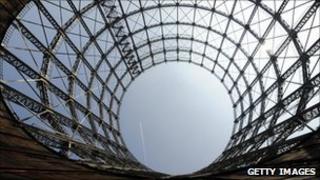 Misplaced hope in shale gas may lead to higher prices, a think tank has warned.
Shale gas deposits are abundant, and have been successfully exploited in the US, leading to hopes it will become a major energy source in the future.
However other countries may face prohibitive geological, economic and environmental problems, said foreign affairs analysts Chatham House.
Uncertainty over shale is hurting investment in conventional gas wells, threatening future supplies, it added.
"If the shale gas revolution in the US continues to flourish and is replicated elsewhere in the world, this inadequate level of investment will not matter," said Paul Stevens, author of the report.
"However, if shale fails to deliver on current expectations, then in 10 years or so, gas supplies could face serious constraints."
US unconventional gas production has increased 20-fold over the last decade, thanks to shale, though it is still dwarfed by conventional gas output.
However Chatham House argued that exploiting the energy source elsewhere in the world will cause serious problems.
It says:
shale gas deposits are spread very thinly, and wells are less efficient and dry out more quickly, making their exploitation more costly than conventional gas
the geology of shale deposits is complex and varies enormously from one place to another, meaning it may take a long time to develop drilling technology
there are environmental problems with drilling shale, because chemicals used to pump the gas out can poison drinking water and force salt water to the surface
most shale deposits do not enjoy the same easy access to pipeline infrastructure that exists in the US.
Hopes over future shale production - along with the impact of the 2008-09 recession - have pushed current gas prices down to levels that make investment in more conventional gas sources uneconomic.
Of particular concern is the development of liquefied natural gas (LNG) - a technology that allows gas to be traded internationally like crude oil.
But LNG requires costly investment in facilities, and some projects have recently been shelved.