BBC Magazines stake sale cleared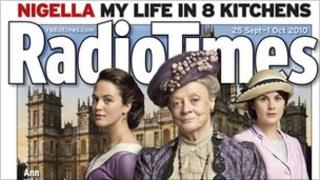 The BBC Trust has said that the BBC can explore the sale of a stake in its magazine business, which includes the Radio Times.
BBC Magazines also owns Top Gear magazine and Lonely Planet.
The division, which made a profit of £18.4m last year, is part of BBC Worldwide, the corporation's commercial arm.
The sale plan is the latest to follow a review of BBC Worldwide's operations last November.
At the time, the BBC Trust concluded that Worldwide should be more internationally focused and needed to shed some of its domestic operations.
As a result of that review, BBC Worldwide sold BBC Audiobooks.
Any buyer for the magazines would need not only to be acceptable to competition authorities, but also to the Trust.
"The Trust has agreed that Worldwide can explore with the market options for the future of its magazines business, as long as it does so without making any binding commitment at this stage," the BBC Trust said in a statement.
"The Trust's focus will be on delivering the best deal for licence fee payers and any specific proposal would require our formal regulatory clearance."
Potential bidders
Some 30 potential bidders have expressed an interest in buying a stake in the titles.
Peter Phippen, managing director of BBC Magazines, told the division's 650 staff in a note that he was not able to name any of the interested parties.
He said: "Due to its confidential nature, I'm not going to be able to disclose details about who we are in discussions with, or the precise shape of any deal, but I promise to update you as much as I possibly can over the coming months."
The Radio Times is the most profitable title in the group, but is also a crucial promoter of BBC output and as such, any buyer would be bound by strict conditions on content.
Radio Times began publishing in 1923 and has a current circulation of just under 950,000.