RBS customers 'are able to stay'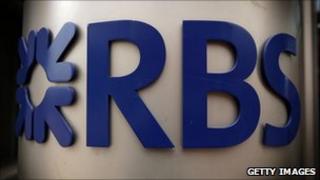 Nearly two million customers from Royal Bank of Scotland and NatWest must act soon if they do not want their accounts moved to Spanish bank Santander.
Santander has bought all the NatWest branches in Scotland and all the RBS branches in England and Wales.
The deal involved all accounts automatically moving to Santander.
But the BBC has learned that customers who ask to stay with their original bank can, but must ask to do so.
Santander's deal forbids RBS encouraging customers to stay with the bank.
But RBS told the BBC that customers who asked to stay with the bank would be able to.
In August this year, Santander paid £1.65bn to buy 318 branches of RBS and NatWest - now both part of Royal Bank of Scotland Group.
The European Commission told RBS last year to sell branches to safeguard competition concerns after it was bailed out by the UK government.
This means that the 1.8 million customers of RBS in England and Wales, and NatWest in Scotland will become Santander customers within the next 18 months if they do nothing and leave their account as it is.
Right to choose
The Money Box programme on Radio 4 has discovered that while there is no information about how to stay with RBS on its website, that if customers call the bank's helpline and request to stay with the bank, there is a form that they can fill out to do just that.
Chris in Surrey told the programme he planned to close his RBS account and open a new one with his local NatWest branch.
"I thought that I had the right to change bank accounts when I felt like it, but for a bank to sell me off as some kind of commodity seemed to me to be a very impertinent action by them," he said.
A spokesman for the RBS group told the BBC: "Customers have the right to choose where they receive their banking services from.
"However, as part of the agreement reached with the European Commission, RBS has agreed not to actively solicit customers."
There are also concerns that there will be a repeat of the problems that Alliance & Leicester customers have experienced when their accounts were transferred to Santander this year.
RBS admits the change is potentially "unsettling for customers" but says its working with Santander to minimise any disruptions.
BBC Radio 4's Money Box is broadcast on Saturdays at 12 noon, and repeated on Sundays at 2100h.