Help all bank customers access web accounts, says Which?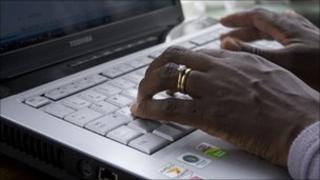 Banks have been urged to provide online access inside branches to help avoid "digitally excluded" customers missing out on the best deals.
A report from Which? magazine said online savers on average earned 37% more interest than those who only had branch-based accounts.
And it said travel insurance was up to 355% more expensive to buy in person.
The British Bankers' Association (BBA) said banks reserved the right to offer the best deals where they could.
Which? said branch-based instant access accounts paid 0.65% a year on average compared to 1.14% for web savers.
Digital exclusion
Investors could get a one-year fixed-rate bond at an average of 2.58% over the internet, but just 2.34% in a branch.
Interest rates for online Isas averaged 1.84%, which fell to 1.53% for branch-based products.
Government figures suggest that up to four million people are "digitally excluded", meaning they do not have or cannot afford internet access.
Which? chief executive Peter Vicary-Smith said: "Not everyone is comfortable or able to manage their finances online and these people are missing out on the best deals as a result.
"Banks should be more inclusive by offering terminals in branches where customers could access online deals, with some help from staff."
But the Brian Mairs from the BBA defended the rights of banks to offer different deals across different platforms.
"Where technology enables banks to offer services more efficiently, banks may be able to offer them more competitively," he said.
"Although Which? appears to advocate that banks offer the same rate across all platforms, banks will reserve the right to offer the best deals they can, where they can."