Paragon returns to buy-to-let market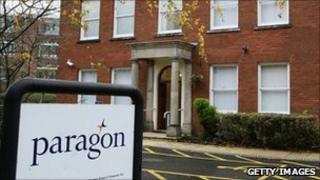 One of the largest buy-to-let lenders in the housing boom is to return to the market for the first time in 18 months.
Paragon, along with many other lenders, was hit by the credit crunch but now hopes to expand to write up to £1bn a year in new mortgages.
Rents are rising with demand from tenants increasing and a number of previous landlords selling up.
Meanwhile, the Land Registry has reported a slight rise in house prices in England and Wales in August.
Comeback
When the credit crunch struck Paragon's profits dived, and it decided to withdraw from the buy-to-let market in February 2008.
But now it wants to re-enter the sector, a move made possible by a £200m debt facility provided by Macquarie Bank.
This gives Paragon the money it needs to write new loans up-front, until it has a large bundle of mortgages, which it will then securitise, raising fresh funds to lend.
"Competition in the mortgage market has been sorely lacking, particularly as specialist lenders have largely been unable to secure funding or government support to enable them to compete against High Street lenders," said Nigel Terrington, chief executive of Paragon.
"Nowhere is this more evident than in the private rented sector where tenant demand is strong and expected to grow.
"This is an increasingly important part of the UK housing market and competition is vital for a healthy and vibrant buy-to-let market and we aim to provide that competition."
Paragon is offering mortgages to investors with a minimum of a 25% deposit.
The move comes shortly after the Lloyds Banking Group announced it was cutting its options for buy-to-let investors.
"It is good news that another lender has come back in to the market after the Lloyds announcement that they have cut the amount they will lend to investors from nine properties to three," said mortgage broker Aaron Strutt, of Trinity Financial Group.
"Paragon will now create more competition in the buy-to-let market."
Prices
The latest data from the Land Registry, widely regarded as the most comprehensive of the house price surveys, has shown a slight rise in property values in August in England and Wales.
The average home in England and Wales rose in value by 0.3% in August compared with July, to £167,423.
This put the average annual price rise at 6.7%, led by rising prices in London (11.4%), although all regions saw values increase year-on-year.
The number of properties sold has also been rising from a low base, the Land Registry said.