EU lays out sanctions to punish budget rebels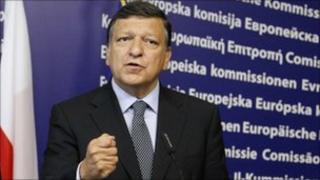 The European Commission has unveiled plans to punish countries that fail to bring their debts under control and pose a potential risk to the euro.
The proposals include automatic fines for countries that do not manage their finances or their economies properly.
The fines would also affect non-eurozone countries such as the UK, through the suspension of EU aid.
The Commission's proposal will now need to be approved by national governments and the European Parliament.
However, the French government has previously expressed reservations about the idea of automatic fines.
Regional aid
The fines would apply to non-eurozone countries such as the UK, according to Economic Affairs Commissioner Olli Rehn.
At a news conference, he said that all 27 European Union members could have fines deducted from the funds - such as regional aid - that they receive from the EU budget.
"If these sanctions would have to be implemented... the euro area member states would pay straight from their treasury, while the regime for the EU-27 would work so that we would suspend payment appropriations," said Mr Rehn.
The proposed new rules aim to prevent a repeat of this summer's debt crisis when the eurozone stepped in to bail out the debt-laden Greek government.
The Commission's president, Jose Manuel Barroso, said they marked "a sea change in the way economic governance is dealt with in the European Union".
"The pressure we have been under since the crisis started shows more clearly than ever that, as the famous saying goes, 'there is no such thing as a free lunch.' There is also no such thing as a free deficit."
Government finances
The new rules will require national governments not only to keep their deficits within the current limit of 3% of GDP, but also to actively reduce their total debt towards 60% of GDP.
Governments would be expected to cut one-20th of the excess debt every year.
So for example, a country with 100% debt-to-GDP ratio would be expected to cut it by 2% a year.
Most eurozone members are in breach of the 60% limit. Belgium, Italy and Greece have debt close to or in excess of 100% of their GDP.
And nearly all eurozone governments are currently in breach of the 3% deficit rule, as they struggle to cope with high unemployment and dismal growth.
However, there is expected to be a three-year grace period for governments to meet the financial rules.
Private debt
The desire to crack down on debt makes sense when looking at countries like Greece and Italy, which racked up huge debts in the good times, says BBC Europe business reporter Ben Shore.
But he adds that it does not solve the problems of a country such as Spain, which was never was a debt glutton and actually ran a budget surplus in the years leading up to the crisis.
However, that did not stop it being singled out by international investors as a big debt risk.
The Spanish economy experienced a property bubble fuelled by private household debt - not government borrowing - during the last decade.
That bubble then burst, bringing the construction sector - a major part of the Spanish economy - down with it.
The Commission also wants to address this problem of private sector debt accumulation - what it calls "economic imbalances" - with the threat of fines.
A country that has been identified by Brussels as at risk would face an in-depth review resulting in a "corrective action plan" - a set of policy demands that the scrutinised government must carry out.
The action plans would first have to be agreed with the other national governments. Failure to carry the plan out would lead to fines.
Big fines
The proposed punishments will raise eyebrows, our reporter adds.
The fine for breaking budget rules will be 0.2% of GDP.
Eurozone governments - but not the UK - would be expected to deposit this amount in an account, so it could be easily deducted if they persistently break the rules.
There would be a separate fine of 0.1% a year for governments who fail to enact their action plans to deal with "economic imbalances" when told to do so.
However, the Commission's monitoring and potential admonishment of offending governments may apply to all EU countries, including the UK.
Automatic punishment
More controversially, the Commission wants these sanctions to be automatic, but with a possible escape route if a transgressor can persuade other eurozone countries to let it off.
The Commission said that the proposed new framework would be "more rules-based, and sanctions will be the normal consequence to expect for countries in breach of their commitments".
The idea is a response to the failure of the the original "stability and growth pact" rules for the euro.
The old rules also said that governments were should be fined for their budgetary transgressions.
But the fines were never implemented, as even the likes of France and Germany failed to stay within the debt and deficit limits.
French disquiet
The proposal for automatic fines is politically controversial, particularly with the French, as it would entail unelected bureaucrats punishing elected politicians.
"To foresee a completely automatic mechanism, a power totally in the hands of the experts, no!" said French Finance Minister Christine Lagarde earlier this week.
She unveiled on Wednesday a budget for 2011 that is noticeably less austere than those of her eurozone neighbours.
Instead, the French government will rely on stimulating faster growth to help it bring debt-to-GDP and deficit-to-GDP ratios within the required limits.
Some economists also warn that in the current environment of anaemic consumer spending, fiscal austerity may prove self-defeating for countries like Ireland and Greece.
They say that the budget cuts will lead to recessions, meaning lower tax revenues, bigger unemployment benefit bills and falling GDP.
This could make the EU's targets for debt-to-GDP and deficit-to-GDP ratios unattainable.
German stringency
However, automatic fines - and eurozone government austerity - are being pushed by Germany.
Berlin has already gained support for its strict view from a separate taskforce set up by the eurozone governments to look into the debt crisis.
The Commission also announced a new drive to make sure EU countries are not massaging their statistics, in response to accusations that Greece consistently misreported how much it was borrowing.
Governments will need to bring all aspects of their budgetary process - including accounting systems, statistics and forecasts methodologies - into line with Europe-wide standards.