Domino's Pizza online sales shoot up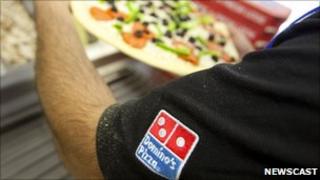 Domino's Pizza has reported a 70% rise in online sales for the three months to 26 September, with internet orders accounting for 40% of delivery sales.
Online sales hit £33m for the period, up from £19.6m in the same period a year earlier.
Like-for-like sales - which strip out the impact of sales from new stores - rose by 10%. Total group sales from all stores were £115.7m.
Domino's introduced online ordering in 1999.
"With tough comparatives to beat, yet again our franchises and store teams have risen to the challenge and delivered excellent like-for-like sales growth," said the firm's chief executive Chris Moore.
Domino's has 643 stores across the UK and the Republic of Ireland, and more than 9,000 in total in 65 countries.