Halifax to close Isa interest gap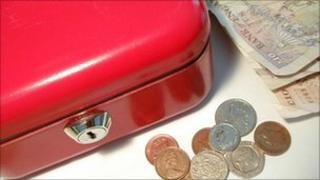 The Halifax has promised to plug an interest payment gap facing savers who switch their Individual Savings Account (Isa) provider.
The bank, now part of the Lloyds Banking Group, said that customers switching to its cash Isas will earn interest from the date that the application form is received.
The move comes after the Office of Fair Trading (OFT) report was critical of the amount of time Isa transfers take.
Other providers could now follow suit.
Switching
People can transfer existing savings from a cash Isa into another cash Isa or an investments Isa. They cannot transfer money from an investments Isa into a cash Isa.
Those signed up to a fixed-rate deal - such as a five-year Isa - may face a penalty charge by transferring funds from this account before that period ends.
But others have switched, without penalties, in order to benefit from better rates provided elsewhere. About 11% of Isa holders switch to a new provider in a typical year.
Yet there has been widespread criticism among consumer groups about how long this process takes, prompting a super-complaint from watchdog Consumer Focus to the OFT.
In June, the OFT said that the transfer of cash Isas took an average of 26 calendar days. A quarter of transfers took longer than 30 days - partly because details are sent by second-class post.
The OFT found that there was a "dead" period of up to five days in the middle of a transfer, when neither the old not the new provider paid any interest at all.
Now the Halifax has said that, from 2 October, any new or existing customers switching to its cash Isa will earn interest from the day the application form is received in a branch or by post.
Clarity
It said that, from July 2011, it would also prominently display interest rates on statements and online - countering another criticism from the OFT.
"We have always said that improving the process needs to be an industry-wide initiative," said Russell Galley, managing director of savings at the Halifax.
"This will ensure people are not deterred from making the most of their tax-free savings allowance."
The move has been welcomed by consumer campaigners.
"This is a welcome change that other banks need to follow. Cash Isa customers have been losing out on millions of pounds in interest payments when they switch accounts and for Halifax customers, this frustration should soon be over," said Mike O'Connor, chief executive of Consumer Focus.
"Other banks should follow Halifax's lead by paying customers their new interest rate from the day they switch. All banks need to be completely upfront and notify people when interest rates change, however small.
"If competition between banks is to work for consumers, people need to be able to check simply and quickly if they are getting the best deal."
Andrew Hagger, of Moneynet, said: "There has been precious little for savers to smile about in the last 18 months with rates hitting rock bottom and inflation more than wiping out the value of their meagre returns, but industry-driven initiatives such as this will help restore savers' faith in providers seen to be striving to give them a fairer deal.
"For the Isa scheme to continue to grow, it needs to be free of obstacles, red tape and complications and offer the customer ease of use and absolute transparency."
However, Dennis Hall, director of Yellowtail Financial Planning, said this was good news but any delay by Halifax in transfers when people leave its Isa would theoretically cut some of the cost of the latest move. However, the Halifax responded saying it would not hinder any money leaving or coming in to its Isa.
Tax-free Isas were introduced in the UK 11 years ago to encourage people to save. At least 17.5m people in the UK have £143bn held in cash Isas.