Consumers repaying unsecured debt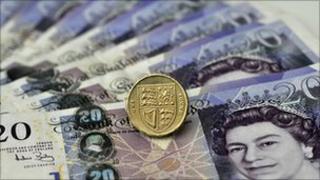 UK consumers repaid more unsecured debt than they took out in new loans in August, the Bank of England said.
Net consumer credit - which includes credit card borrowing, overdrafts and personal loans - fell by £120m, the biggest drop since November 2009.
The figures come shortly after the Bank's deputy governor, Charlie Bean, suggested savers go out and spend some of their savings to boost the economy.
The number of mortgages approved for house purchases also dipped slightly.
There were 47,372 home loans approved in August, some 974 fewer than the previous months, the Bank's figures show. This was the fourth monthly drop in a row.
Cautious
People's safety-first approach to credit in recent times is clear in the total amount of outstanding debt held by individuals.
This grew sharply in the middle of the last decade as people helped expand the credit bubble. It stood at £1.18 trillion in December 2005, and increased to £1.4tn two years later.
But in the last two or three years, assisted by the credit crunch, that figure has remained relatively static.
In August 2010, it was at £1.43tn, the lowest since February 2008.
Within unsecured lending, credit card lending increased slightly, although it was below the average of the previous six months.
However, this rise was more than cancelled out by the repayment of personal loans and overdrafts.
Some charities have welcomed the austere approach by consumers.
"Credit can be an important tool to smooth the economic peaks and troughs of life, but our experience at National Debtline also shows that people in unmanageable debt are hampered in many areas of their lives, and incur significant costs to society," said Joanna Elson, of the Money Advice Trust.
"It is important that people struggling to repay their debts are given every chance to do so."
Savers hit
Figures from the Building Societies Association (BSA) showed that the financial climate was also affecting savers.
Savings balances held at mutuals decreased by £699m in August, following a decrease of £1bn in July. Excluding interest credited to accounts £1bn was withdrawn in August, compared with £1.3bn in July.
"Households are facing a difficult economic environment which helps explain the withdrawal from savings accounts seen in August," said Brian Morris, head of savings policy at the BSA.
"Consumer prices are outpacing growth in average earnings and unemployment remains elevated. Also, the low Bank rate is making it difficult to attract people who can afford to save when potentially higher, if more risky, returns are possible in the equity markets."
Housing market
The sluggish state of the housing market was also in evidence with the dip in mortgage approvals in August, the Bank's figures show.
Net mortgage lending was higher than in July, increasing by £1.7bn. The previous six-month average was £700m.
"It is a mixed bag of data, with mortgage lending picking up, but approvals falling again and net credit back in negative territory," said Hetal Mehta, of Daiwa Capital Markets.
"But this does not change the broad picture, that the housing market is in for a period of stagnation for the next nine to 12 months.
"Until there is a substantial recovery in credit extended, the outlook for the housing market is rather gloomy."
Dipping prices have been revealed in recent house price surveys owing to sluggish demand - caused by lenders' requirements of large deposits - and growing numbers of sellers entering the market.
The number of approvals for those remortgaging increased to 28,042. This was higher than the average of the last six months, but still remains historically low.