Russia expands railway tourism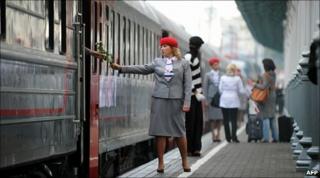 It takes about 10 hours to cross Russia from west to east by air, but the much longer option of travelling across the vast country by train has always been a popular choice for many.
Unsurprisingly, in both Soviet and post-USSR times the choice was made mostly because it was much cheaper to use trains than planes, especially when travelling in a second-class sleeping carriage.
However, growing demand from affluent Russians and visitors from abroad for luxury railway travel have made Russian officials and travel firms think of developing railway tourism, both short-distance and long-haul.
A week ago, a new direct train from Moscow to the French Riviera was launched, while railway officials in the regions of Moscow and the city of Tver now offer suburban trains for hire.
And these are in addition to the luxury - and expensive - Trans Siberian railway trips from western Russia to Lake Baikal, Vladivostok and all the way to China and Mongolia, which foreigners have been making for years.
'Rail cruise'
A commuter train ticket from Moscow to Vladivostok at the Sea of Japan will cost you from about £130 (about $200) per person in a second-class sleeping carriage to almost £700 in a luxury compartment. The journey takes six days.
However, for the pleasure of making a 15-day luxury tour on board the Golden Eagle, a tourist train from Moscow to Vladivostok with a quick detour to Mongolia, you will have to pay between $9,000 and $22,000 per person.
The price of this - one of the most expensive tours on offer - includes one-night stays in Moscow and Vladivostok, 12 nights on board the train in a compartment which is a smaller version of a luxury hotel room, chef-made meals and excursions.
Ian Lomas from GW Travel, a UK-based travel firm which specialises in "exclusive, long-distance rail tours" and sends about 1,000 passengers every year on its rail tours into Russia and neighbouring countries, says that the average age of his customers is about 63-68 years old.
"They tend to be either retired or older professionals keen to see the world, but within the comfort and safety of a tour group, whilst they are in good health," says Mr Lomas, who calls the tours "rail cruises".
Target audience
The Golden Eagle train is operated by Trans Siberian Express, a Russian travel company that manages luxury trains and single carriages running through Russia and some neighbouring countries.
Trans Siberian Express's head, Vera Rykunova, says that virtually all their customers are foreigners.
But a new rail service from Moscow to Nice, launched by Russian railway monopoly RZD at the end of September, has Russians as its target audience.
The train runs once a week, and it takes more than 50 hours to cover the distance. Single fares vary from 306 euros (£261; $409) to 1,200 euros.
The French Riviera has been popular among wealthy Russians since the 19th century, and similar rail services were in operation in Tsarist Russia before World War I.
Although RZD launched the new service when the summer holiday season was over, it managed to sell most tickets for the inaugural journey.
New destinations
Dmitry Gorin, commercial director of VIP-Service Inna Tour company, told Russian news agency Interfax that long-distance routes were in demand, "especially as there are those Russians who are afraid of flying, but have money and want to see other countries".
But Professor David Begg, the publisher of Transport Times magazine, says that while rail enthusiasts find long-distance rail holidays attractive, "they represent a very small percentage of the tourist market".
"When the journey is more than 800 miles (1300 km) it is very difficult for rail to compete with air even if it is high-speed rail."
Ms Rykunova agrees that existing routes have sufficient demand, but says that introducing new long-distance services would boost interest.
RZD president Vladimir Yakunin is very optimistic about the future of railway sector.
In his blog, he wrote that even those projects that seemed to be fantasies only five years ago, now seem more and more possible.
"Inter-continental services, which were seen as fantastical only a while ago, will inevitably appear due to the call of the times," Mr Yakunin forecast.
Charter trains
Apart from planning for the future, Russian railway officials have also been addressing more current issues, such as modernising the country's railway infrastructure, cutting the time of high-speed train journeys and finding ways to stop suburban services from making losses.
There is not a lot of room for manoeuvre on the question of suburban services, as fares are regulated by the state.
But one of the companies operating services between Moscow and Tver now offers whole trains or single carriages for hire, banking on demand from corporate clients and groups of people going to music festivals and football games.
Yevgeny Khmelevsky, head of the Moscow-Tver Suburban rail company, told Russian business newspaper RBC Daily that this project had not required new investment, as no new trains were bought.
However, experts warn that for the project to succeed, officials have to make sure that these "charter trains" will not lead to cancellations or changes in the schedule of commuter suburban trains.
This happened when high-speed trains between Moscow and St Petersburg were launched earlier this year, making many commuters unhappy and provoking social protest.
Historically, railway services have been the dominant transport in Russia.
Now the task for railway officials and companies, as well as travel firms, is to make the services relevant to the current needs of both day-to-day commuters and luxury customers.
Otherwise, hopes of taking a healthy share of the travel market off the air industry could fail to materialise.