Rolls-Royce chief Sir John Rose to retire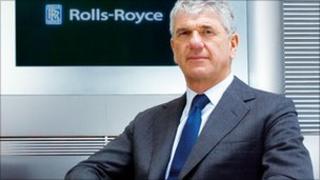 Rolls-Royce's long-standing chief executive Sir John Rose is to retire after 14 years in the top job.
Sir John, who has been with the company for almost three decades, will be succeeded by John Rishton, currently chief executive of the Dutch retail giant Ahold.
Before, that, Mr Rishton was chief financial officer at British Airways.
Chairman Sir Simon Robertson said Sir John had transformed the company in a way that had "few parallels".
John Rishton will earn a basic salary of £850,000 a year and will be entitled to a bonus worth up to 162% of that.
He will also be eligible for a performance-related share plan worth up to 120% of his basic pay, paid after three years.
In addition he will receive a one-off grant of shares, currently worth £2.8m, to compensate for Ahold shares he lost when he resigned from the retailer. Some of this is also performance-related.