Vedanta smelter in India gets reprieve from closure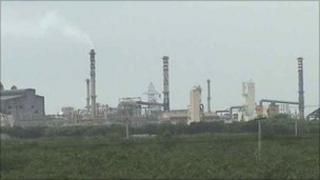 A copper smelter in India run by a subsidiary of the Vedanta mining group has been given a reprieve from closure.
The Indian Supreme Court said the copper smelter at Tuticorin could continue operation at least until a court hearing due on 18 October.
The order temporarily overturns a Madras High Court decision to close the facility on environmental grounds.
Vedanta's subsidiary, Sterlite Industries, is appealing against the regional court's decision in Delhi.
'In compliance'
The Madras High Court had said the copper smelting plant was "letting out effluents into air and water which is having a devastating impact".
But Sterlite, which is 54%-owned by Vedanta, insisted that the plant used a smelt process that was internationally accepted.
"The Tuticorin smelter has been operating for more than 12 years and has been in compliance with necessary rules and regulations and global standards," the company said in a statement.
Sterlite employs about 3,000 people in the Indian state of Tamil Nadu, including about 1,000 at the smelter.
The Madras court said the workers in the town of Tuticorin were entitled to compensation and ordered the district administration to help them find alternate jobs.