'Unfair' charges for the elderly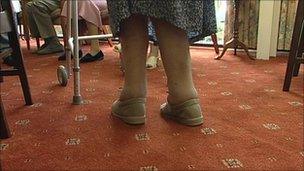 Older people in some retirement developments are being financially exploited, says Age UK.
Following its first review of the industry, it told the BBC that it is concerned about the lack of regulation.
It claims many residents are being charged unjustified fees for service charges, insurance and even selling their properties.
The Association of Retirement Housing Managers, which represents the industry, also wants better regulation.
Stanley Hodges, 80, had been hoping for a quiet retirement, but instead he and his wife Anne were drawn into a legal battle over what they considered to be excessive management fees in their privately managed block in Newbury, Berkshire.
Like many people who live in similar accommodation, the Hodges own the leasehold to their flat but have to pay an annual service charge.
It costs £2,500 and covers maintenance, security, insurance and the rent for an onsite manager's flat. But two years ago Mr Hodges found the costs had been unfairly calculated.
"The charges were ridiculously excessive. When one compared the rent they wanted for a house manager's flat here with charges for other two bedroomed flats in the town of Newbury, we discovered it was very overpriced," he said.
Eventually the freeholder agreed with residents to reduce the charge, but Mr Hodges still had to go to court to get the refund of just under £500 for his share of the charge.
"If I was a lot younger, this whole process would be a lot easier, but at our age it is traumatic and very frustrating," he said.
About 200,000 people live in private retirement developments and for many the extra support and security provided is ideal.
They are already very popular and demand is increasing as the population ages. In 30 years the number of people aged over 75 is set to double and that is why Age UK says the sector needs much better regulation now.
It says limits should be set on how much a landlord can charge for a manager's flat.
There should be greater transparency for service charges such as insurance and maintenance and it says transfer fees, charged when residents sell up or sublet their flat, should be abolished.
Age UK claims that in other cases it has come across, people have been afraid to raise their concerns with their management.
"A number of people have contacted us who are intimidated about complaining, because they feel they will be unfairly treated," said Joe Oldman, housing adviser at Age UK.
"Some have had the experience of psychological pressure after they have made a complaint. People who do come forward are very brave and we will support them in cases where we feel the complaints are justified."
The Office of Fair Trading (OFT) is investigating the issue of transfer fees but a voluntary code of practice exists to advise managing agents on how to operate.
The Association of Retirement Housing Managers (ARHM) says this code should be given much greater weight.
"There is no requirement for individual managing agents to abide by the code of practice unless they are a member of the ARHM so we think that all managing agents should be required to be a member of our body or some similar organisation," said James McCarthy, who chairs the ARHM.
The government says it recognises the problems faced by leaseholders - including those in retirement properties - where service charges are concerned, and is determined to ensure that they are protected from unscrupulous landlords.
A spokesman from the department for communities and local government said: "Tenants have a legal right to challenge those charges that they believe to be unreasonable before an independent tribunal.
"There are two codes of management practice which set out the law and best practice, and these can be used in evidence at Court or tribunal proceedings where necessary.
"We believe there is a need to strike a balance between tenant rights and landlord responsibilities, and that the current legislative framework can deliver that balance, if matched by an increasingly pro-active and positive approach by the professionals in the sector."
Some older people who believe they have been overcharged have taken on the freehold themselves and now manage their own blocks. But half of all residents have to agree.
For other residents, such as Mr Hodges and his wife, the only other option is through the courts. For many people that is a very daunting route to take.
Related Internet Links
The BBC is not responsible for the content of external sites.