US May shares crash caused by a single trader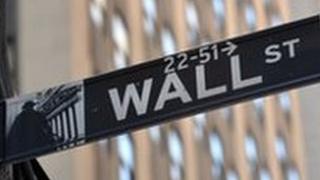 May's 700 point sudden share crash in the US was caused by a single trader's computer program, according to the US trading watchdog the Securities and Exchange Commission (SEC).
The so-called "flash crash" on 6 May saw the Dow Jones index fall 10% in just minutes.
The report was prepared jointly by the Securities and Exchange Commission and the US Commodity Futures Trading Commission.
It did not actually name the trader.
It said a "large fundamental trader" used an algorithm to sell 75,000 stocks worth $4.1bn (£2.6bn) extremely rapidly.
Algorithms are a mathematical process used for calculation and data processing.
The large trader's firm is named in internal SEC documents as Waddell & Reed Financial, according to news wires.
The report said the trader initiated the program to sell shares to offset the risks of an existing share holding.
Under pressure
The program had previously executed a similar sale over more than five hours, but on May 6, when the markets were already under pressure due to worrying news about the European economy, the sale was carried out in just 20 minutes.
This then caused other, super-fast trading algorithms to go into a spiral of selling that led the Dow Jones index to drop by nearly 10%.
Although it recovered within minutes, authorities have since introduced "circuit breakers", which can halt trade on certain stocks for 10 minutes if they fall by more than 5%.
The SEC and the Futures Trading Commission hinted that further measures could be on the way.
"We now must consider what other investor-focused measures are needed to ensure that our markets are fair, efficient and resilient, now and for years to come," they said in a statement.
An earlier investigation by the SEC into the mysterious plunge in US share prices has found no single cause was to blame.
At the time, the SEC said it needed more time to investigate, but warned that new safeguards would be introduced.
Theories about the possible cause ranged from a rogue trader to terrorism.