Energy bills set to rise to pay for £32bn investment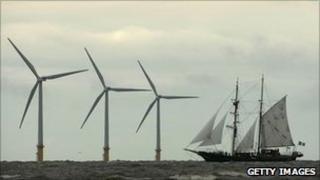 Gas and electricity bills will both have to rise by £3 a year, as £32bn is needed to improve the UK's distribution infrastructure, the regulator has said.
Ofgem said energy firms needed to spend that sum over the next 10 years to "keep the lights on" and meet the government's green energy targets.
The energy regulator added that the £3 increase in bills applied to average UK homes each year over the next decade.
The £32bn investment target represents a 75% rise from the past 10 years.
Ofgem said the necessary £32bn investment in new electricity cables and gas piping was part of a required total £200bn additional spending in the UK's energy sector over the next decade.
Alistair Buchanan, Ofgem chief executive, told BBC Radio 4's Today programme: "It is going to be basically £6 a year [per household, £3 each for electricity and gas] over the next 10 years."