Defence cuts 'may cost one in six jobs in the sector'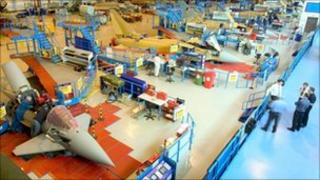 One in six UK defence industry jobs may be lost if the government cuts spending in the sector by 26%, a think tank has warned.
Such cuts could mean 55,000 people with skilled manufacturing positions losing their jobs, Oxford Economics said.
Trade union Unite said the study showed the expected cuts would "wreck" the UK's defence manufacturing industry.
The exact defence cuts will be unveiled later this month. The government says some budget savings are essential.
It adds that it has to bring down the UK's budget deficit, and that most Whitehall departments have to play their part.
However, a leaked letter last week from Defence Secretary Liam Fox showed that he opposed "draconian" cuts to the defence budget, and warned Prime Minister David Cameron that it would mean "grave consequences".
Mr Cameron responded by saying that Mr Fox's fears were "unfounded" and that the armed forces would remain "well-funded" following the cuts.
Unite has warned that much defence work is carried out in economically deprived parts of the UK where replacement jobs are hard to find.