Central bank lowers Irish growth forecast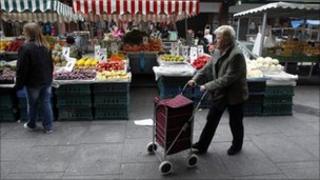 The Irish Republic's economy will grow by only 0.2% this year, the country's central bank has predicted, much lower than the government's current estimate.
Despite lowering its annual growth prediction from 0.8%, the Central Bank of Ireland said the government must continue with major spending cuts.
It said this was vital to start to try to restore confidence in the country's debt-ridden public finances.
The government currently expects 1% economic growth for 2010 as a whole.
However, it is due to be publish its latest predictions later this month.
Banking crisis
The central bank said: "Against the background of sharply increased concerns about fiscal sustainability, the main priority in the short-term is to ensure that the 2011 budget credibly demonstrates the first step of a reprogrammed tighter fiscal plan."
The Fianna Fail-led government of Prime Minister Brian Cowen is continuing to have to deal with the aftermath of a banking crisis that has seen it prop up the country's largest lenders.
Mr Cowen revealed last week that taxpayers' total bill for bailing out Irish banks could reach 50bn euros ($68.5bn; £43bn).
This spending has contributed to a spiralling Irish public deficit, which is predicted to be the equivalent of 32% of the country's economic output this year.
Mr Cowen - who has also had to deal with the collapse of the Irish housing market - has vowed to reduce the deficit to below 3% of GDP by 2014 through major spending cuts.