Sanofi-Aventis launches hostile Genzyme bid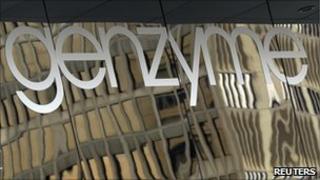 Sanofi-Aventis has launched a hostile bid for Genzyme, after its friendly overture was rejected.
The French pharmaceutical company is offering Genzyme shareholders $69 cash per share, valuing the US biotech firm at $18.5bn (£11.8bn).
Sanofi had made the same offer to Genzyme's management in July, but was eventually turned down last month.
Genzyme produces treatments for multiple sclerosis, cholesterol and rare genetic diseases, among others.
The US company urged its shareholders to refrain from responding to Sanofi's approach for the time being.
Genzyme's board said it would review the offer over the next 10 business days, and then advise shareholders of its formal position.
Frustration
"Our strong preference has been and continues to be to work together constructively with the Genzyme board to reach a mutually agreeable transaction, but our attempts to do so have been blocked at every turn," said the French company's chief executive, Christopher Viehbacher.
The French firm said in a statement that it had spoken to shareholders owning more than 50% of Genzyme, and that these shareholders had expressed frustration at the lack of progress on merger talks, making Sanofi confident that its hostile offer would be successful.
The offer, which expires on 10 December, represents a premium of 38% over Genzyme's share price of $49.86 on 1 July - just before the acquisition plan became public.
Genzyme share price has been trading above $70 since August, fully pricing in the offer.
In a sign of Mr Viehbacher's frustration at his US counterpart, Sanofi also published a letter addressed to the Genzyme chief executive Henri Termeer.
The letter accused Mr Termeer of refusing to engage with them in a constructive manner, despite the two company heads having met on 20 September.
Among the letter's various complaints, it noted in particular Genzyme's unwillingness to let Sanofi meet the commercial team to discuss prospects for the US firm's multiple sclerosis drug, alemtuzumab.