Mortgage borrowers to be 'sacrificed' lenders warn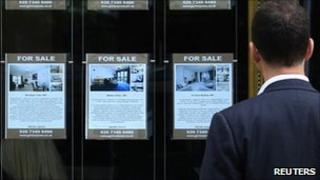 Plans by the City regulator to restrict mortgage lending would "sacrifice" many good borrowers, the Council of Mortgage Lenders (CML) says.
The Financial Services Authority (FSA) wants to force lenders to be much more careful to whom they lend.
It says the new rules are essential to "protect vulnerable customers".
But the CML says that if the suggested new rules had been in place from 2005 to 2009, about half of all mortgages would not have been granted.
It says most of them - 3.8 million - have in fact turned out to be good loans.
"We believe the current proposals sacrifice far too many borrowers," the CML said.
"Ever greater numbers of borrowers [will be] denied credit without evidence of any payment problems."
'Sacrifice'
The FSA wants to stop the sort of excessive mortgage lending that characterised the run-up to the credit crunch in 2007.
However, the CML believes that the suggested restrictions would be far too strict and are, therefore, unnecessary.
The CML has already warned that one part of the FSA's proposed rules, insisting that lenders verify the income of all borrowers, would lead to house prices falling.
But it has turned its attention to other aspects of the rules, such as:
assessing an applicant's income and expenditure
assessing their ability to repay on a full capital-and-interest basis
assuming loans are for no longer than 25 years
restricting the size of loans to people with past payment problems and
assuming that interest rates might rise from their initial level.
Taking all the new changes together, the CML concludes that 51% of all mortgages lent in the four years it examined would not have been made.
But it calculates that only 151,000 arrears cases and 30,000 repossessions would have been prevented.
Smaller mortgages
The FSA said that its proposals were designed to address the "major failures" that have occurred in the mortgage market - failures that it said are still affecting customers today.
"Our evidence shows that 16% of borrowers are already financially overstretched and they are facing problems now as a result of their lenders' practices in the past," the regulator said in a statement.
"But for now, borrowers are also benefiting from historically low interest rates and house price inflation - which cannot go on forever," it warned.
The CML denied it was scaremongering, but acknowledged that, if the FSA's restrictions had been place in the past few years, many borrowers would simply have had to change their plans.
"They would have got a smaller mortgage, they wouldn't have been able to buy a house near where they wanted to live, they would have had to move further out," Michael Coogan of the CML told the BBC.
Aspirations
The CML was careful to stress that its analysis of the impact on past lending did not mean it was predicting a similar impact in the future.
But that is clearly the worry at the heart of its analysis.
It said the new rules would particularly affect first-time buyers and new business.
"We will not be able to meet everyone's aspirations because the rules will prevent more lending than will be possible," Mr Coogan said.
The FSA is currently consulting on its new rules, which are scheduled to start early next year.