Alliance Boots cutting 900 UK jobs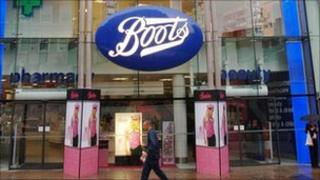 Alliance Boots is cutting 900 non-store UK jobs over the next three years.
The chemist and health and beauty company said it hoped to achieve the cuts "where possible" through staff turnover and redeployment.
Alliance Boots said it was trimming its workforce to cut costs, saying it aimed to save £56m per year by 2013-14.
The company was bought by private equity group Kohlberg Kravis Roberts for £11bn in 2007. Boots and Alliance Unichem had merged a year earlier.
Most of the job cuts will affect staff working in Nottingham, where Alliance Boots has its main UK base.
They will take place in the firm's health and beauty business, and related contract manufacturing activities.
Alex Gourlay, chief executive of the health and beauty division, said: "Since 2007 we have undertaken a number of steps to make our business more robust, investing significantly in our stores and commercial offering.
"This latest phase will enable us to have a stronger and more agile support infrastructure fit for the long-term future."
Paul Maloney, national officer of the GMB union, said it was "really bad news".
He added: "We will be seeking urgent talks with the company to find out what is behind this decision."
Alliance Boots employs 115,000 people in total, including 70,000 in the UK.