Foreigners eye New Zealand farms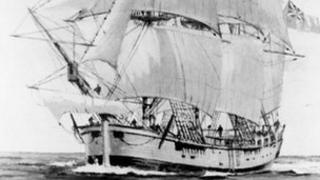 October marks 241 years since Captain James Cook and the crew of Endeavour first sighted the coast of New Zealand, in 1769.
However two centuries later those European explorers could never have dreamed that the country would be worried about so much of its prime farm land being bought by investors from Asia, notably China.
The recent collapse of a big Kiwi agriculture company prompted a Hong Kong based dairy producer to consider buying several of its farms and that caused outrage.
Following a backlash from New Zealand's farmers, who voiced fears that land was getting too expensive for them, but not Chinese companies with deep pockets, the government in Wellington decided to make it tougher for overseas investors to buy land.
Foreign companies will have to prove how the acquisition will benefit the economy.
New Zealand's finance minister, Bill English, told the BBC that arable farming land is a national economic asset.
Hot issue
"Around the world we're seeing a real appetite for agriculture production land and a number of countries buying fairly aggressively," he said.
"In New Zealand there's always been a concern about the aggregation of land because it's so critical to our production capacity."
There is no doubt this is a hot button issue for farmers in a country which is the world's biggest exporter of milk products.
Indeed sales of products like butter or meat account for a third of the nation's exports.
The New Zealand cooperative Fonterra, which accounts for about 40% of the world's butter sales, believes global prices for products like its milk will rebound as demand picks up on the back of economic recovery.
Earthquake
Kiwi farmers are worried that the global trend of countries trying to secure sources of food by acquiring land in other nations has reached their shores.
Many fear land prices will rise beyond what they can afford, allowing wealthy foreign companies to snap up tens of thousands of arable hectares.
It is a month since New Zealand's south island was rocked by an earthquake that destroyed homes and businesses around Christchurch. The destruction has hit the recovery of the nation's economy, but according Bill English it will boost employment in construction.
"The rebuilding effort will be quite substantial and that'll generate quite a lot of activity in the next 12 to 18 months," he told the BBC.
Mr English and his government colleagues in Wellington will know that the future of New Zealand's economy depends on its farmers enjoying good sales overseas.
For that they will need control of prime farm land.