General Motors to shut Opel factory in Belgium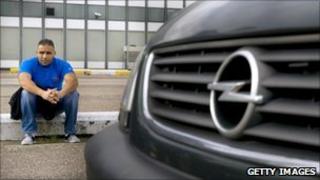 General Motors Europe (GM) has said it will shut its Opel car assembly line in Antwerp, with the loss of 1,200 jobs.
The carmaker had intended to shut the Belgian factory earlier this year, then relented in the hope of finding a buyer by the end of September.
But the search for an investor has failed, and the plant will now close at the end of the year.
There have already been 1,400 job losses at the plant this year, and GM planned another 5,700 across Europe.
"The other job cuts are mostly at plants in Spain, the UK and Germany," an Opel spokesman told the BBC, adding that the cuts are nearly all implemented.
The Antwerp car plant, which was founded in 1924 and employed 7,000 at its peak, has become the first in Europe to fall victim to the global slump in demand since 2008.
Opel, which sells its cars under the Vauxhall badge in the UK, had set up a working group, including the Flemish regional government and factory worker representatives, in its failed attempt to find a buyer.
"Unfortunately, none of the potential investors was able to come forward with a sustainable business concept for the plant," said Opel in a statement.
The company said it is still open to outside buyers during the remaining months until closure at the end of this year, but is no longer actively searching.
The factory produced Astra convertible and estate cars for export outside Belgium.
Bouncing back
The factory closure and job cuts come just as GM Europe is about to recover from a sharp fall in sales.
Sales plummeted last year, partly because of a row with policy makers and trade unions over jobs in Europe, partly because of uncertainty about the Opel and Vauxhall brands' future, and partly because the global recession resulted in a sharp fall in car sales for the entire motor industry.
But now the situation is brighter, chief executive Nick Reilly told BBC News in an interview at the Paris motor show last Thursday.
"In every single market except Germany, our market share has increased this year," he said.
"We have all our agreements signed with our labour unions and we have funding in place so we are investing again.
"Before restructuring charges, we hope to make a profit next year, and certainly by 2012."