AIG 'seeks to raise $15bn in Asian unit share offering'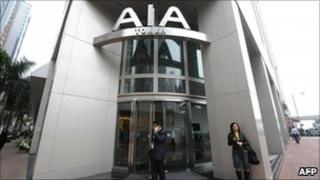 Insurance giant AIG will aim to raise about $15bn (£9.5bn) from investors when it sells shares in its Asian unit AIA, according to a number of reports.
The insurance giant, which was bailed out by the US government during the financial crisis, is expected to sell a 50% share in the unit.
That would value AIA at between $28.5bn and $30.5bn.
Meanwhile, newspaper reports in India suggest AIG is also in talks to sell its Indian mutual funds business.
The Indian business publication Mint reported that AIG was considering offloading the business for about $10m.
The moves are part of AIG's efforts to pay back the US government, which spent $182.3bn bailing it out at the height of the financial crisis.
According to anonymous sources quoted by the Financial Times, AIA's initial public offering could see $17bn raised from investors, while Bloomberg News puts the figure at $14.9bn.
Initially, AIG had planned to sell AIA to UK insurer Prudential for $35.4bn earlier this year.
But AIG's management were forced to consider an IPO after a backlash from Prudential shareholders caused the deal to collapse.