Currency exchange firm's collapse brings wedding woe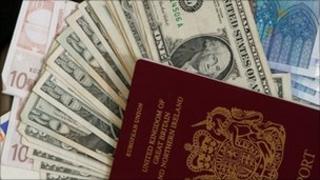 Since he popped the question two years ago, Wayne has been planning, saving, and borrowing for a Disney wedding in Orlando.
But while Disney promises that dreams can come true, Wayne and his fiancee Stacey have seen theirs turn to a nightmare almost overnight.
"We are paying for a wedding we are not going to have," says a devastated Wayne, although he still holds out a slight hope they might make it.
The reason for the heartache is that they could lose £1,000 they were relying on for living costs during their time away.
This money had been handed over to Crown Currency Exchange to buy the dollars they would use in the US.
But on Monday, the currency exchange firm went into administration. Wayne and Stacey are among 13,000 customers who now face uncertainty over their travel money.
Millions
The business, based in Hayle in Cornwall, was set up five years ago and processed hundreds of millions of pounds worth of foreign currency, as well as offering travellers' cheques and money transfers.
It allowed individuals and business customers to pre-order foreign exchange at a set price up to a year in advance, with amounts of between £300 and £10,000 available.
But the administrators say it suffered as a result of the downturn in the travel market in the last 12 months.
They warn that customers face a long wait for news about whether they will get any money back. The administrators believe that £20m is owed, and only £3m is in the kitty.
The company failed to hedge on currency, they say, and just took in the money and promised to provide currency later at today's prices.
"We fully appreciate the difficult position in which many will now find themselves in - many in the build-up to holidays or business trips, as well as money transfers associated with second home purchases," says administrator Paul Clark, of MCR.
"However the administration process is in its early days and we cannot guarantee an early resolution for those looking for a quick return of their money."
He says that there is "little chance" of people about to travel getting their money in time.
Wayne, 29, says he was told he had to wait eight weeks for things to be sorted - but they are due to fly out for the wedding in three weeks.
"We have no idea what we are going to do," says Wayne, whose fiancee's 21st birthday fell on the day they got the news of the administration.
They have already borrowed money from family, who are also planning to fly out for the wedding, he says.
Having been made redundant, Wayne - originally from Sheffield - moved to London to take a job in June offering customer service for those seeking work.
"Having got a job, we thought things were looking up," he says.
He feels particularly disappointed because they checked out the business after finding it online, and transferred the money through their own bank - Barclays - which also held Crown Currency Exchange's accounts.
'Angry'
Ray from Bury St Edmunds, is also extremely concerned because he thought his money was safe.
He has £10,000 at risk, which was money set aside to pay for furniture for his retirement home in Florida.
"It was the worst wake-up call I have ever had in my life, when the news popped up on the television," he says.
"I feel very bitter and very angry. It is hard-earned money and it will not be easily replaced."
Other stories include a family fearing for £1,000 of spending money for a holiday in Florida. They included a young boy with cancer who has spent recent times in and out of hospital.
And Andrew from Bedworth near Coventry, was due to receive £1,500 from Crown Currency Exchange on Friday, which was supposed to be spending money for a surprise family trip to the US.
"When the money did not arrive it left me feeling sick. I was on the verge of crying at work and physically shaking," he says.
The business was registered with the Financial Services Authority but not regulated by it. There is no safety net from the Financial Services Compensation Scheme.
Those who paid on credit cards might get some extra protection but it appears few, if any, used that form of payment. Many will simply have to wait and see.
The administrators say they will contact all those affected - all of whom will be wishing for some good news.