UK bank bonuses 'to top £7bn this year'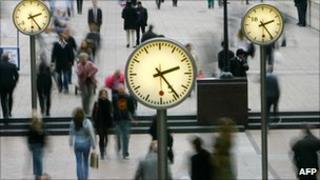 Nearly £7bn is expected to be paid out to bankers in City bonuses this year, according to research by one financial consultancy.
The Centre for Economics and Business Research (CEBR) said the level of bonus payments was now similar to pre-financial crisis levels.
The bonus pay-out is still lower than last year's total of £7.3bn, however.
It is also significantly less than the £11bn paid out at the peaking of the banking boom in 2007.
The CEBR added that the government would take a bigger share of the bonus pot than the bank employees.
That is thanks to the new 50% tax rate on income over £150,000, which comes into force this year.
City workers are expected to take home around £3.8bn, with the government taking £4.1bn - which includes national insurance contributions as well as the government's £3.2bn tax take on the bonuses.
Benjamin Williams, CEBR economist, said that finding might go some way to reducing public anger at the size of City bonuses being paid.
"It seems that the wave of public anger towards bank bonuses may be ebbing a little," he said.
"A whopping £7bn bonus payout will be easier to stomach if the lion's share goes to the nation."