Moody's considers Irish downgrade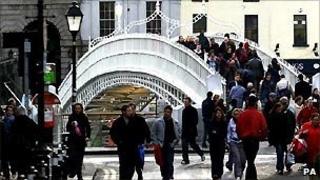 Ratings agency Moody's has warned it may cut the Republic of Ireland's credit rating again amid concern over its finances.
It pointed to the country's huge bill for cleaning up its banks, a weak economic recovery and rising borrowing costs for the move.
In July, Moody's downgraded Irish sovereign bonds to Aa2 from Aa1.
Separately, data has shown the Irish services sector shrank for the first time in six months in September.
And last week it was revealed that the cost of bailing out Ireland's stricken banks had risen to 45bn euro (£39bn), opening a huge hole in the Irish government's finances.
The increased cost will see the government run a budget deficit equivalent to 32% of GDP this year.
There was also data last week showing Ireland's manufacturing sector was back in recession.
"Ireland's ability to preserve government financial strength faces increased uncertainty," said Dietmar Hornung, Moody's lead sovereign analyst for Ireland.
"Recently published data highlight Ireland's weak growth prospects. Fresh uncertainty arises from demand-side weaknesses, particularly the impact of new austerity measures on domestic demand."
Ireland has suffered a severe contraction in GDP since 2008, causing a sharp decline in tax revenue.
The Irish economy - once known as the Celtic Tiger - grew rapidly on the back of a property boom, fuelled by massive lending from the banks.
But when this collapsed and lenders were unable to repay, the Irish banking system was plunged into crisis.