The knock-on impact of spending cuts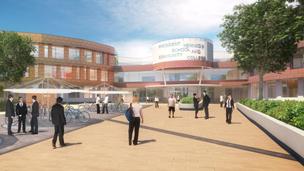 When 20 schools in Coventry had their rebuilding or refurbishment work cancelled by the government in July, it wasn't just the pupils who were upset.
Building firms across the city and the wider West Midlands region suddenly found they would no longer be able to bid for parts of the 10-year, £355m project.
And Coventry's services industry - everything from restaurants and bars, to hotels and taxi companies - was at a stroke deprived of the custom of hundreds of engineers and building workers.
"We were devastated," says Labour councillor Lynnette Kelly, cabinet member for education on Coventry City Council. "Of course primarily for the children, but also for Coventry's economy.
"The school rebuilding project would have brought quality, long-term employment to the city, and given us a major economic boost.
"And we were just weeks away from signing the contracts for the first two schools, with work due to start before Christmas. It was a very big blow."
The situation in Coventry has been replicated across England.
The school rebuilding programme in the West Midlands city was part of the giant £55bn Building Schools for the Future (BSF) programme.
It was due to see every English secondary school rebuilt or renovated.
But BSF was cancelled on 5 July by Education Secretary Michael Gove, as one of the first spending cuts announced by the coalition government.
The move meant that the revamp of 719 schools in the pre-construction stage of the scheme - including those in Coventry - was called off overnight. A total of 706 schools that had already signed construction contracts will see their work go ahead, but will have to make substantial savings.
Mr Gove said his department had to make savings as part of the wider government cuts, and that the BSF scheme - which was introduced by the previous Labour government - was too costly and bureaucratic.
He explained: "Throughout [the project] life it has been characterised by massive overspends, tragic delays, botched construction projects and needless bureaucracy."
But regardless of any merits that cancelling BSF may have had, the move leaves construction companies that were expecting to be involved in the work bitterly disappointed.
And with the government due to announce further spending cuts in its comprehensive spending review on 20 October, the scrapping of BSF is also indicative of how such cuts can have a wider impact.
Clive Dickin, chief executive of the Association of Plumbing and Heating Contractors says the end of the BSF project, together with the wider government review of public procurement in buildings, "has had a profound affect on its members".
"Some of our member companies have had to lay off or make redundant up to 80% of their workforce as a result of the current financial uncertainty," says Mr Dickin.
"We are now hearing a significant number of reports about contractors submitting unprofitable tenders in an effect to win contracts, simply so they can keep their businesses turning over."
One construction company that has been directly affected by the decision to cancel the BSF programme is BAM, one of the final two bidders for the work in Coventry.
BAM's Midlands regional director is Richard Dakin, based in Coventry. He says his firm had more than 20 people working on the Coventry BSF scheme for more than 18 months.
"We were only weeks away from submitting our final bid for Coventry, and were as confident as we could be," he says.
"We had invested heavily, so it was very disappointing.
"At the same time, we are a very large and stable construction company, so we can move on and deal with these things, and relocate staff to other projects.
"Where it is difficult is for the smaller firms who had hoped to pick up sub-contract work, says Mr Dakin. "It is a real shame for the Coventry economy."
While the smaller construction companies in Coventry that had hoped for work as sub-contractors are all complaining about the BSF cancellation, none want to be named.
As one explained: "Everyone is gutted, but choosing to keep their heads down.
"The thinking is that while BSF has been cancelled, some of the schools in Coventry are still desperately in need of repair work, and we all hope to pick up smaller ad hoc contracts in the future.
"So no one wants to rock the boat or complain."
BAM's Mr Dakin agrees: "Some of the schools in Coventry are in need of replacement, so while BSF may have been cancelled, this work is still going to have to be done at some point in the future.
"It may have to be done more cheaply, but there will be contracts out there."
In the short term, this is little comfort for the pupils and teachers at the schools in Coventry that until 5 July were excitedly preparing for new buildings.
Nor for Coventry City Council, which had invested £4.5m in BSF preparation work.
Westwood School was going to be one of the first two secondary schools in Coventry to be renovated.
"We spent more than three years working with the council and architects, and we were so close to the final hurdle - the winning contractor would have been chosen this month," says Westwood's headmaster, Roger Whittal.
"The BSF process was overly bureaucratic, and should have been done quicker, but we played it by the rules only to miss out right at the end.
"We are now looking at alternative ways to raise the money and get the work we need done, but everyone is obviously very disappointed."
Related Internet Links
The BBC is not responsible for the content of external sites.