UK services in surprise September expansion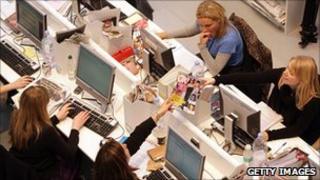 The UK services sector picked up in September, although the outlook for new business weakened, a survey has found.
The purchasing managers index for UK services rose to 52.8 for the month, up from a 16-month low of 51.3 in August, despite market expectations of a fall.
But new business inflow fell to its lowest level for the year.
This was due to concerns about the strength of the recovery, according to financial data company Markit, which compiled the survey.
'Coming downturn'
"Inflows of new work and prospects for the year ahead have been hit by widespread worries that the recovery is losing steam, cancelled government contracts and the prospect of more cuts to come," said Markit's chief economist, Chris Williamson.
"Unless trends in new business show an improvement soon, the lack of confidence is consistent with a downturn in business activity in the coming months."
Moreover, growth in the service sector is still extremely weak by historical standards, according to Benjamin Williamson, senior economist at the Centre for Economic and Business Research.
He notes that the pre-recession long-run average was 56.2, well above the current level.
"While growth remains weak, the UK's largest sector has avoided a contraction," he said, adding that it would be interesting to see how today's data are interpreted by members of the Bank of England's Monetary Policy Committee, who meet this week to set interest rates.
The prices component of the PMI data actually dropped to 49.9, suggesting a very slight fall in prices for services.
The index is compiled from a survey of major non-retail service sector firms. A level above 50 indicates expansion.