Network Rail faces probe into under-reported accidents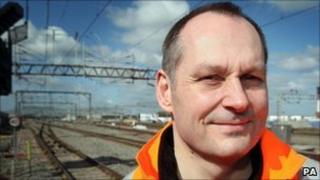 Network Rail (NR) has agreed to an independent review of how it reports staff accidents.
It follows concerns that managers may have been encouraged to minimise the number of reported incidents.
The company's chairman, Rick Haythornthwaite, has invited the Railway Safety and Standards Board (RSSB) to review the reporting system.
All injuries, diseases and dangerous occurrences must be logged under existing health and safety laws.
A spokesman confirmed that NR had been operating a system of league tables, whereby managers would have points deducted for such health and safety incidents.
"It was set up with the best of intentions, but appears to have created an incentive to under-report," said the spokesman. "It created perverse incentives."
'Outrageous' bonuses
The Unite union says that these safety records were taken into account when the company's remuneration committee decided to award management bonuses.
"It is still outrageous that senior directors can walk away with huge bonuses when NR wrongly boosted its safety record," said Unite's national officer for rail, Bob Rixham.
NR's seven directors earned £2.36m in bonuses this year.
"NR's chairman must ensure that part of the bonuses paid to directors are recouped and donated to the transport benevolent fund," added Mr Rixham.
'Discrepancy'
The union claims new data shown to the company in the last fortnight suggests that about 700 health and safety incidents are not reported by contractors every year, on top of the under-reporting by NR managers.
An NR spokesman admitted that there seemed to be a "discrepancy" between the expected number of incidents forecast under industry standards and the number NR actually reports.
"We've had a look. There seems to be a problem with our system, and we want to get to the bottom of this," said the spokesman.
NR says it has now shelved the league tables for reporting of work-related safety breaches.
Unite's health and safety officer will join the RSSB team that is examining the safety culture at NR.