Eurozone retail sales fall back in August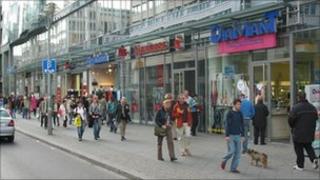 Eurozone retail sales fell by 0.4% in August compared with the previous month, a weaker figure than expected.
This is the first fall in sales since April and adds to concerns about the strength of the economic recovery.
Consumer confidence in the region remains fragile as many governments are implementing strict austerity measures, with unemployment remaining high.
This means that retail sales could remain subdued in the short term, economists say.
"August's fall in eurozone retail sales confirms that households are not picking up the slack left by slowing exports," said Jennifer McKeown at Capital Economics.
According to a monthly survey by the European Commission also published on Tuesday, consumers' willingness to make major purchases in the next 12 months fell to its all-time low in September.
The index fell to -26, from -23 in August.
Germany could be an engine for growth in consumer spending as it is the only country in the eurozone where unemployment is falling and wages are increasing, said Howard Archer at IHS Global Insight.
"The problem is, though, that in recent years German consumers have always seemed to find some reason not to significantly step up their spending," he added.