Taking Beckham to the US and other sports business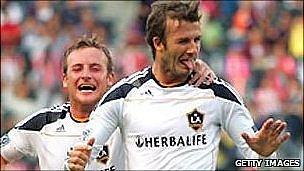 American businessman Tim Leiweke may not be a name that is familiar to most UK sports fans.
But he is the man who took David Beckham to the US to play football for LA Galaxy, and he has helped transform London's Millennium Dome into the critically acclaimed O2 sport and music arena.
And just last week the firm he works for, AEG, announced it wanted to take over London's Olympic Stadium, post-2012, in conjunction with Tottenham Hotspur.
As chief executive of AEG, Mr Leiweke is at the head of a firm that owns sports franchises such as ice hockey team the Los Angeles Kings.
It also owns venues such as the Staples Center in Los Angeles, the Beijing Olympic Basketball Arena, and major stadiums in other cities such as Sydney, Hamburg, Stockholm and Berlin.
But it was the capture of David Beckham from Real Madrid to AEG-owned LA Galaxy in spring 2007 that brought the firm to the attention of European sports followers.
"People keep saying I 'took him' to America as though I dragged him there, but we paid him $5m [£3.1m] a year or so," says Mr Leiweke.
"He is a bit of a lightning rod - a lot of people have an opinion on him," he adds during a Sport Industry Group gathering in London.
"But he is the most fierce competitor I have ever seen. Never count David out, as he loves proving people wrong.
"He has been nothing but a positive influence on our team since day one.
"I still think he can play a role in any national team."
The Beckham purchase, although expensive, was designed to help promote "soccer" as it is called, in the US, and in particular the MLS league.
And at the weekend Beckham showed he retains sporting value for the LA Galaxy, when he scored with a free kick against Chivas USA, his first goal for the club in more than a year.
"It was an unbelievable free kick, the man can still play," enthuses Mr Leiweke.
"Did his move work for the MLS? Of course it did, people are discussing the MLS now.
"We have Thierry Henry, David Beckham, home grown guys like Landon Donavon who have gone on to bigger things, so now we are relevant.
"David Beckham has made us a relevant topic in the UK, the home of football."
Similar clouds of doubt hung over AEG's decision to take over the then Millennium Dome, which had acquired the reputation of being something of a white elephant by the River Thames.
However, it was renamed the O2 and when it opened in June 2007 it quickly became one of the world's most popular sports and music facilities.
"London is a must-do marketplace, and AEG saw it as an ideal location for its brand," says Mr Leiweke.
High-profile sporting events held at the venue include the annual ATP World Tour finals in tennis.
And earlier this week the O2 once again hosted the NBA's annual showcase basketball game in the UK, with the LA Lakers taking on the Minnesota Timberwolves.
The game was a sell-out, and next March the NBA will include a regular-season game at the venue.
"London is the world's greatest marketplace. If you can't find a way to make the NBA work in London, you will never be successful here," says Mr Leiweke.
The NBA decision is at the front of moves by many sports governing bodies in the US to internationalise their traditionally American-based product.
But when the Premier League football authorities in England floated the possibility of a 39th game overseas they drew fierce criticism from many quarters.
However, Mr Leiweke says: "For the Premier League to bring a meaningful game to the US is a great idea.
"Football is the only sport that is truly global.
"But the globalisation idea is tough. Clubs represent a community of people who are passionate."
He adds: "When you take the game away from fans they get upset."
With its global audience it is hardly surprising that AEG has been approached about getting involved in Premier League football club ownership.
"Sport is a unique business; you try to run it like a business, with a balance sheet, but at the same time you have fans, and often owners, who are passionate," says Mr Leiweke.
"We as a business are debt-resistant, for example the LA Kings and the Galaxy have zero debt, as we don't believe it is the way to run sport.
"We have had the chance to buy into almost every Premier League club in the past 10 years, but did not."
He said because - in his opinion - in Premier League football, first Roman Abramovich and Chelsea and now Manchester City with their new wealthy owners, have "set the tone" for spending.
"It takes just one person to throw the economics of the league out," he observes.
"Unless you are going to spend hundreds of millions on this [PL club ownership] and run it as a hobby you will run into problems."
And he said that clubs that did end up taking on debt, such as at Liverpool and Manchester United, ran the danger of facing fan 'revolt'."
Tottenham Hotspur is the club AEG are currently involved with, joining forces with the north London Premier League team in a bid to take over the London 2012 stadium.
AEG plans to cut stadium capacity from 80,000 to 60,000, and more controversially, to remove the running track.
London 2012 promised the IOC that a track, capable of staging major events, would remain in place post-games.
But Mr Leiweke believes it "is a crime if you sacrifice having a perfect football stadium for convincing yourself you are going to do a track and field event every 10 years".
As for the Olympic games themselves, he remains in no doubt about the impact they will have in sporting, economic, and legacy terms.
"This is the most business-connected face ever on an Olympic games," he says.
"2012 is going to be a huge defining moment for London that will pay dividends, and will showcase it as the greatest city in the world. London will thrive for the next 20 years."
Related Internet Links
The BBC is not responsible for the content of external sites.