IMF worries over global financial system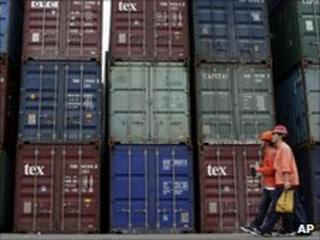 The International Monetary Fund says the global financial system remains the weak link in the economic recovery.
In a new report, the IMF predicts a gradual improvement in the financial system, but adds that there is a substantial risk of further problems.
The tone is not one of panic, but it is clearly nervous.
The IMF says that in the last six months there has been a setback to financial stability, which may affect the recovery from global recession.
That has been highlighted by the recent turmoil in European financial markets.
In these markets, government debt has combined with weak banks to undermine stability.
Jose Vinals, the senior IMF official responsible for the report, told the BBC that some of the most vulnerable countries have taken important steps to deal with government debt and problem banks.
Greece is moving "forcefully" and Ireland is taking "very decisive actions", he said.
So he expects "things to get better not worse", he said.
Nonetheless, the financial system remains fragile, the report warns.
There is also a warning that some developing countries could be destabilised by large financial inflows, as investors seek higher returns in fast-growing economies.
That is particularly a concern in Asia and Latin America.
Foundations
There are some positive elements in this report, however.
The IMF report describes the response of Europe to recent developments as forceful.
And it says the banks have made some further progress in strengthening their financial foundations.
One important theme underlying this report is the continued divergence between the unconvincing economic recovery in rich countries and the more robust performance of many developing nations.
The concerns about financial flows to emerging markets reflect that difference.
Modest shifts
Low interest rates in the developed world, intended to spur recovery, mean there may be more money to be made in Asia and Latin America.
The IMF points out that quite modest shifts by rich country investors could have a large impact on developing-world financial markets.
Such inflows have the potential to lead to financial instability.
That risk is an unwanted side effect of what is generally a relatively favourable economic outlook in many developing nations.