British Airways shares jump 6.4% as traffic rebounds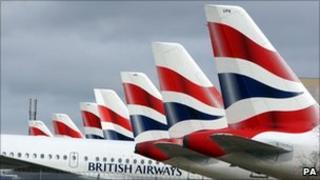 British Airways (BA) shares have jumped 6.4% to their highest close in two years, after it reported that traffic in September was up 1.3% on a year ago.
The data suggests the British flag carrier has put the impact of summer strikes behind it.
The company saw its strongest growth in the more profitable "premium" traffic - first class and business class travellers - which rose by 4.3%.
However, total traffic for the year to date is still down on a year ago.
And traffic in Asia is still suffering, having fallen 6.4% in September, the company said.
Transatlantic alliance
The company said that its "passenger load factor" - a measure of full seats on its planes - rose to 82.4% in September, from 81.5% the month before.
Cargo traffic also rose, up 1.4% on a year earlier, according to the statement from BA.
However, total passenger traffic for the year to date is still down 7.4% on last year, due to the cabin crew strikes, as well as the volcanic ash cloud that grounded European aircraft in April.
The British flag-carrier will launch a new transatlantic routes alliance with Iberia of Spain - with whom BA is merging - and American Airlines on Wednesday.