US services and construction pick up speed in September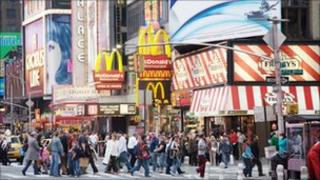 Service and construction industries in the US grew much faster than expected in September, with employment also stabilising, according to a survey.
The purchasing managers' index for the non-manufacturing sector registered a level of 53.2, up from 51.5 in August, and beating market expectations of 52.
The employment component of the index also rose to 50.2, suggesting hiring has stabilised after falling in August.
It is the ninth month the index has stayed above 50, indicating expansion.
The new orders subcomponent was also strong - rising 2.5 from last month to a reading of 54.9 - suggesting the outlook for the sector is also improving.
"Respondents' comments continue to be mixed about business conditions, with a slight majority reflecting optimism," said Anthony Nieves, chairman of the committee at the Institute of Supply Managers that produced the report.
Stocks were buoyed by the better-than-expected data.
The Dow Jones industrial average ended the day up 1.8%, while the broader S&P 500 closed up 2%, hitting its highest level since May.