Jobs market growth 'slows again'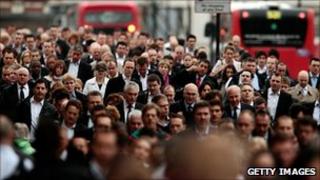 The number of job vacancies grew last month, but at the slowest rate in almost a year, a survey of recruitment firms has suggested.
The findings of the latest survey by the Recruitment and Employment Confederation (REC) suggest a continued weakening in the UK jobs market.
The number of people appointed to permanent jobs in September also grew by its slowest pace in 12 months.
That has affected pay, with wage inflation at a 10-month low.
Kevin Green, the REC's chief executive, warned that the figures indicated the jobs market could be heading for its own "double dip".
Private sector recovery
"[The report] shows that the jobs market is starting to flatline and may herald a 'double dip' in employment," he said.
"While there is growth, these figures are the worst we have seen for a year.
"The government must do everything possible to avert the threat of increasing unemployment."
Accountants KPMG, who commissioned the survey alongside the REC, said the figures also showed a contrast in fortunes for the private and public sectors.
Public sector fears
There is continued strong demand for engineering, construction and executive staff, reflecting a recovery in the private sector, the accountants said.
But there had been sharp falls in demand for public sector staff, reflecting widespread hiring freezes or even redundancy programmes.
Bernard Brown, head of business services at KPMG, said the sharp decline in demand for healthcare workers seen in September had come "as a direct result of government cut backs and efforts to reform the NHS".
He added that it may "be a sign of things to come".
According to the latest official unemployment figures, the jobless rate currently stands at 7.8%, with 2.47 million people out of work.
Although the number of unemployed people has fallen in recent months, there is concern that the government's planned cuts to public services could see that figure rise again.