UK car sales fall for third month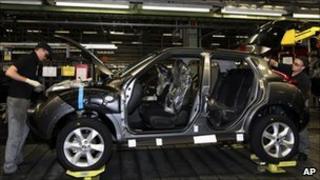 UK car sales fell for the third consecutive month in September, although the rate of decline was less severe than in August.
Sales last month were down 8.9% from September 2009, said the Society of Motor Manufacturers and Traders (SMMT). This follows August's 17.5% fall.
Despite the latest drop in sales, the SMMT said sales for 2010 as a whole should still be higher than 2009.
It said January's rise in VAT could boost sales in November and December.
'Slow improvement'
The SMMT said new car sales for the whole of 2010 should reach two million, slightly above the total reached in 2009.
It added that sales in September 2009 had been aided by the government's car scrappage incentive scheme, which ran from March 2009 to March of this year.
Stripping out the boost to sales that came from the scrappage scheme, the SMMT said sales last month had been 16.3% higher than in September 2009.
SMMT chief executive Paul Everitt told the BBC that the UK car market was making "slow but steady improvement".
He added: "Clearly it is a tough operating environment, and there is concern about public expenditure, and inevitably business and consumer confidence is not as high as we would like it to be."
Looking ahead, Mr Everitt said he expected the first half of next year to be "quite challenging", but the last six months of 2011 to be "reasonably good".
The SMMT said it wanted the forthcoming government spending cuts to be balanced by economic growth measures to boost both business and consumer confidence.