Prius sales hit as Japan subsidy ends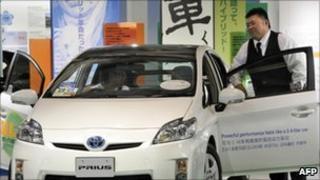 Japanese sales of the Toyota Prius have fallen for the first time in almost a year-and-a-half after a government subsidy for buying more eco-friendly cars expired, industry figures suggest.
The hybrid remains the country's most popular car, with 27,249 sold in September, according the Japan Automobile Dealers Association.
But this was 14% lower than the same month a year ago - the first year-on-year fall in 17 months.
Honda's Fit was the second best-seller.
A hybrid version of that car will be unveiled later this week.
Sales of the Prius have been boosted by government subsidies and tax breaks designed to boost demand for green cars, but these ended in early September.
"The Prius remains hugely popular, but its sales tumbled due to the end of green car subsidies," said association spokesman Toshiki Miyake.
"Many consumers put off decisions to buy green cars following the end of government incentives."