New Lexus to rev up European sales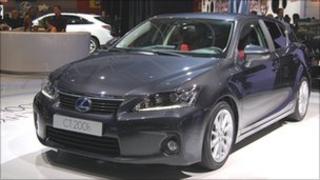 After decades of trying, Toyota's luxury subsidiary Lexus has so far failed to make much of a mark in Europe.
The Japanese manufacturer's share of the overall car market here stands at just 1.3%, a level of performance that contrasts sharply with the marque's phenomenal success in the US where it has for years been the best-selling luxury brand.
"It certainly hasn't reached its potential," acknowledges Andy Pfeiffenberger, head of Lexus Europe, in an interview with BBC News.
That could be about to change, however, with the launch of the Lexus CT 200h petrol-electric hybrid model - an upmarket Toyota Prius, if you like.
"The CT 200h is the most important and accessible Lexus ever," Mr Pfeiffenberger says.
Lexus hopes the car will challenge popular models such as the BMW 1-series, the Mercedes B-class and Audi's A3.
"The car comes into what is the biggest segment in the premium market, accounting for about 25% of overall luxury car sales," Mr Pfeiffenberger says.
In France, the car will cost less than 30,000 euros ($42,000; £26,000), he says.
Crucially, with the CT 200h, Lexus will have a relatively broad portfolio of hybrid models, he reasons.
Hence, the company should finally be able to behave like its rivals, which typically recruit fresh faces and build brand loyalty with relatively small family cars in the so-called C-segment, then try to sell them larger and more expensive versions.
"The C-segment is really the entry level for the premium market as a whole," says Mr Pfeiffenberger.
Market share
Lexus hopes customers will be wowed by the CT 200h's fuel economy and low CO2 emission levels of 89g/km.
Though more important, Mr Pfeiffenberger believes, is the car's low nitrogen oxides (NOx) and particulate matter (PM) emissions. In this area it beats diesel rivals hands down, he insists, as "it produces substantially less NOx than any diesel engine and no particulates".
Lexus aims to grab a 3% share of this market segment, which is currently growing at an annual rate of 20%.
If achieved, that would be impressive given its low share of the total car market in Europe.
But compared with its share of the market for so-called crossover vehicles, that combine the attributes of cars and 4x4 vehicles, it is a modest goal.
In this segment, its RX range accounts for 10% of overall sales.
New model required
However, Lexus could do with at least one new model in the near future to fill a lucrative gap in the market, Mr Pfeiffenberger reasons.
"By no means do we want to be everything to everybody," he says, though he acknowledges that the marque is missing a small crossover that would compete with the likes of the BMW X3
Such self insight is rarely voiced unless a plan to fix what is wrong is already in place, so it seems reasonable to expect a small Lexus crossover to be announced fairly soon.
And with that, the marque's model line-up would be sufficiently extensive to quickly raise its share of the luxury car market in Europe, the company reasons.
It could prove too little, too late, however, as the model broadening at Lexus has coincided with much more rapid model extensions by its German rivals.
Indeed, in the US both BMW and Mercedes are close to knock Lexus off the top slot in terms of sales this year.
Moreover, the number of rivals moving into the Lexus universe is growing fast, with the likes of Hyundai and of Nissan's luxury division Infiniti gearing up their presence in what is becoming an increasingly crowded market for luxury cars.