Fitch downgrades Irish Republic's credit rating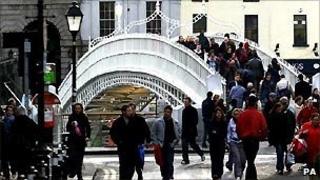 Ratings agency Fitch has cut the Irish Republic's credit rating because of the soaring cost of its banking bail-out and its continued economic woes.
The rating was downgraded one notch from AA- to A+.
The agency has put a negative outlook on the rating because of uncertainties over the economic recovery.
On Tuesday, another agency, Moody's, warned that it may cut its own rating of Irish sovereign bonds for similar reasons.
This is the second time in less than a year that Fitch has cut the Republic's rating because of the severity of the recession affecting the country and its effects on government finances.
It was announced last week that the cost of rescuing banks for the government was almost twice as large as previously expected at 45bn euros (£39.3bn).
This will drive the government's budget deficit to an unprecedented 32% of gross domestic product.
Ireland has suffered a severe contraction in GDP since 2008, causing a sharp decline in tax revenue.
The Irish economy - once known as the Celtic Tiger - grew rapidly on the back of a property boom, fuelled by massive lending from the banks.
But when this collapsed and lenders were unable to repay, the Irish banking system was plunged into crisis.