Hutton pensions review to bring major reforms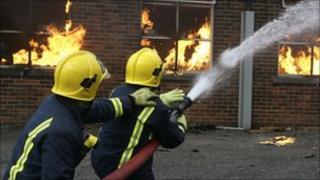 A report into the future of public sector pensions is expected to recommend major reforms later.
Former Labour cabinet minister Lord Hutton will publish the initial findings of a review of the provision offered to firefighters, teachers, nurses and other key workers.
The report could suggest a later retirement age and bigger contributions from staff.
Unions have warned that these workers are already facing job and wage cuts.
"Public servants are already facing job cuts, a pay freeze and intensified workloads as staff are not replaced," said TUC general secretary Brendan Barber.
"Cuts in their pension provision and increased contributions that lead to a cut in take home pay, at a time when inflation is biting, will add to the volatile cocktail of issues they face.
"The value of public sector pensions has already been hit hard by linking them to the CPI inflation measure, rather than the RPI measure. The Treasury's own figures show that this is likely to reduce pensions by 7% over the next six years."
Public versus private
When setting up the commission earlier this year, Chancellor George Osborne said that the projected rise in the cost to taxpayers of public sector pensions was "unsustainable".
Some argue that public sector workers have been shielded up to now by the changes that have affected private sector workers.
"Private sector pensions have had to change a lot over the past few years, and the public sector also needs to make reforms to become more sustainable," said Joanne Segars, chief executive of the National Association of Pension Funds.
"However, this must not become a race to the bottom. Public sector workers, like all workers, deserve a good retirement.
"An increase in contributions and a later retirement age are on the cards, alongside a range of other options. But we do not know what Lord Hutton is going to suggest."
Many public sector workers argue that they have accepted lower pay than they could get in the private sector in order to benefit from better pension provision.