China warns EU off yuan pressure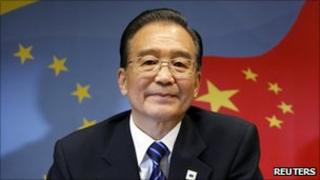 Chinese Premier Wen Jiabao has warned the European Union against pressurising China on its currency policy.
In a speech to top EU officials, Mr Wen said a big change in the value of the yuan could cause "social and economic turbulence" in China.
Earlier EU finance ministers joined the United States in calling for China to let the value of its currency rise.
They argue that a cheap yuan is unfairly helping Chinese exporters.
Mr Wen said China was still planning to proceed with reforms aimed at "increasing flexibility" in the exchange rate, but suggested it would not be rushed.
A sharp rise in the yuan could have disastrous consequences, he said.
"Many of our exporting companies would have to close down, migrant workers would have to return to their villages," Mr Wen warned.
'Policy weapon'
"If China saw social and economic turbulence, then it would be a disaster for the world."
On Tuesday Jean-Claude Juncker, the head of the Euro Group committee of eurozone finance ministers, called for a "significant and broad-based appreciation" of the yuan.
Earlier, the head of the International Monetary Fund, Dominique Strauss-Kahn, warned against the use of currency exchange rates as "policy weapons".
"There is clearly the idea beginning to circulate that currencies can be used as a policy weapon," he said in an interview with the Financial Times.
"Translated into action, such an idea would represent a very serious risk to the global recovery.
"Any such approach would have a negative and very damaging longer-run impact."