Eurostar unveils £700m train deal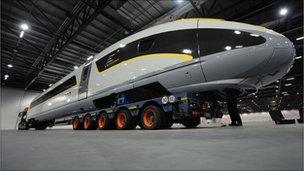 Eurostar has unveiled an order for new trains worth more than £700m.
The Channel Tunnel rail firm, which runs high-speed services from London to Paris and Brussels, is buying 10 trains from German firm Siemens and overhauling its existing fleet.
France had been pressing for the new trains to be built by French firm Alstom.
But Eurostar said the decision had been made in the best interests of customers after a "rigorous" process.
The new Eurostar e320 trains would be able to carry more than 900 passengers and their luggage, and reach speeds of 320km per hour (200mph), the firm said.
The 28 existing Eurostar trains can carry up to 750 travellers at up to 300km/h.
Eurostar said the new fleet would be equipped with wi-fi and on-board services including real-time travel and destination information and interactive entertainment.
The firm's chief executive, Nicolas Petrovic, said the new trains and refurbished fleet would make Eurostar "the obvious choice for short-haul European travel".
Eurostar is set to lose its monopoly on passenger services through the Channel Tunnel, after the introduction of open access on international lines in Europe introduced in January this year.
German state-owned rail operator Deutsche Bahn is planning test trips of inter-city trains and is understood to want to run services from London to Cologne and Frankfurt.
Related Internet Links
The BBC is not responsible for the content of external sites.