UK industrial production continues to rise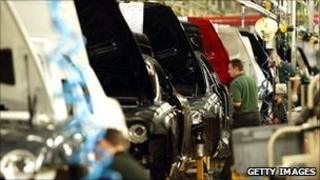 UK industrial production rose in August as the manufacturing sector continued to expand despite the uncertain economic outlook.
Production rose by 0.3% compared with the previous month, and 4.2% compared with a year earlier.
Manufacturing output also rose 0.3% in August, and was up 6% on the year.
The biggest year-on-year increases were seen in the machinery and equipment sector, where output grew 16%, and the food and drink sector, which grew 7.7%.
The figures were roughly in line with market expectations.
Slowdown
"The figures offer some hope that the industrial sector will continue to support the overall economy as the fiscal squeeze gets underway," said Jonathan Loynes at Capital Economics.
"But that won't keep the economy strong as consumers and the public sector retrench."
Some economists fear that stringent government spending cuts designed to cut the country's budget deficit will serve to undermine economic growth.
"Our suspicion is that manufacturing probably won't continue to grow at a pace of 0.3% to 0.4% per month and we're likely to see some sort of slow down," said Philip Shaw at Investec.
"Nonetheless, we think that manufacturing will continue to benefit from a combination of exports and modest domestic demand growth."