Eurozone interest rate still 1%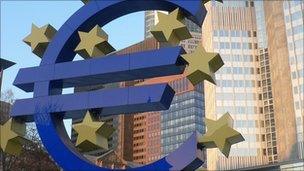 The European Central Bank (ECB) has kept interest rates on hold at 1% as was widely expected.
It is the 17th consecutive month the rate has stayed at the record low, amid concerns over the economic outlook.
Earlier this week, the International Monetary Fund warned that the eurozone would see only moderate growth this year and next.
There are concerns that government cost-cutting will curb growth further and risk recovery.
But ECB president Jean-Claude Trichet said recovery "should proceed at a moderate pace in the second half of this year with the underlying momentum remaining positive".
Mr Trichet gave no hints over whether further stimulus measures will be taken.
However, Deutsche Bank economists argue that the bank will be turning its attention to withdrawing support given to the financial system since 2007.
This would be in contrast with other developed economies, with the US Federal Reserve mulling further economic stimulus to secure the recovery.
And earlier this week, Japan cut interest rates and unveiled plans for a fund to buy government bonds in order to pump money into its economy.
Related Internet Links
The BBC is not responsible for the content of external sites.