Ukraine sets grain export quotas following drought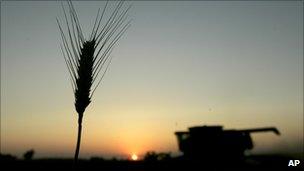 Ukraine has set quotas for grain exports following a severe drought in the summer.
The deputy agriculture minister Serhiy Melnyk said the quota would remain in place until the end of the year.
The government will allow the export of two million tonnes of maize, 500,000 tonnes of wheat and 500,000 tonnes of barley.
Ukraine's quotas follow an export ban by Russia and could put further pressure on grain prices.
Wheat in particular is in shorter supply this year.
In August, Ukraine's government reduced its forecast for the year's grain harvest to 39 million tonnes from 46 million in 2009.
Ukraine, the world's top producer of barley and sixth biggest of wheat, was hit hard by this summer's heatwave.
News of the export quotas caused wholesale wheat prices to rise by 1% on Thursday.
Russia, the world's third-largest wheat exporter last year, has a ban on exports until after next year's harvest.
The United Nations is concerned about food prices and availability.
Rising food prices sparked civil unrest in September, notably in Mozambique where riots over food prices left more than 100 people dead.
Although experts at a UN meeting at the end of last month ruled out a looming world food crisis, they acknowledged that unexpected price rises could threaten food security.
It recommended exploring measures to prevent sudden price upswings.
Related Internet Links
The BBC is not responsible for the content of external sites.